Born in Itzehoe, Northern Germany.
Apprenticeship as a reproduction photographer. Extensive travels in the Middle East.
Studied at Hamburg University of Fine Arts 1978/83
Worked as an artist, journalist and filmmaker in Hamburg
sence 1999 freelance producer for state television company NDR
since 2003 he works exclusively as an independent artist and novelist arist
Member of the Ursa Paul Healing House Foundation and student of Ursa Paul.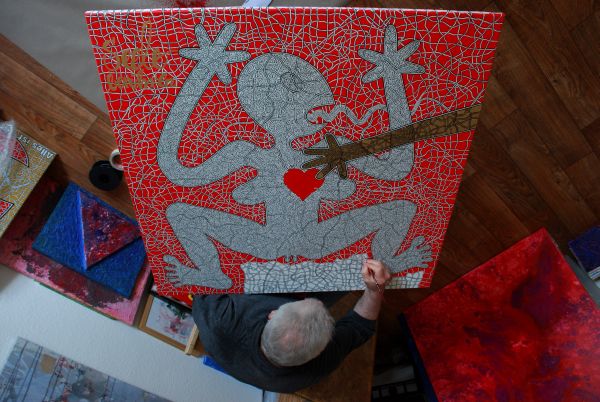 Wimmer Wilkenloh's work is affected by his vision of "HumanBeing", which he puts into effect with different artistic methods. His paintings, as a "Gesamtkunstwerk", correlate, containing spiritual, symbolic-mystic, abstract and political-social layers.
Movies, TV-feature, books and exhibitions
Hamburg: x-pon Galerie, Hosenstall-Galerie, Ernst-Deutsch-Theater, Landesbildstelle, Speicherstadt
German and international: Heilhaus Kassel, Cultura Vivendi Schleswig, Kunstverein Stade, Weil der Stadt, Majdanek Museum to Lubin/Polen, Lima/Peru and Madrid/Spanien ng reproducingfhern Germany. in Lubin/Polen, Lima/Peru und Madrid/spanien.
member:
Ursa Paul Healing House Foundation
student of Ursa Paul
Federal Association of Visual Artists (BBK)
international Deawing Project Din A4